삼계탕 Samgyetang – Korean Ginseng Chicken Soup

For many of us, 大長今 Daejanggeum was an important starting point and stepping stone into the world of Korean cuisine. It created a wave of sensation all over Asia and subsequently the whole world. Together with the rich cultural and historical context it provides, Daejanggeum brought Korean cuisine onto the international platform, allowing folks all over to get to know more about Korean food like kimchi and bimbimbap. It also brought the world into Korean cuisine, getting people curious and inquisitive to try "Hansik" (Korean food) for the very first time. Despite being highly dramatised, it was quite an eye-opener even for those who claim to already know "Hansik". It was most certainly so for me. Several things intrigue me even till today, like the use of honey with dried fruits and nuts in cuisine, something relatively unheard of in the south. Until Daejanggeum came along that is.
The show also popularised the Korean cuisine all over the world, with Korean restaurants springing up in Singapore in quick successions following the show. Now we even have a "Korean food street" in Singapore, in the Tanjong Pagar area which is dotted with many Korean restaurants. Korean supermarkets also became in increasingly common sight with various chains operating in Singapore making it really convenient for those wanna try preparing Korean cuisine at home.
For me, Korean cuisine presents a world of extremes. It could be something as plain as a bowl of clear soup with beansprouts and tofu, yet at the same time, it could be something with far more "wow!" factor like swallowing live octopuses dipped in kimchi sauce or feasting on the unthinkably bizarre and exotic. This seeming clash dietary habits bewilder many but is perpetual not only in the culinary cultures in Korea and many others around the world.


삼계탕 Samgyetang is one of my favorite Korean dishes. There was a period of time where I would order this Korean Ginseng Chicken Soup whenever I see it on the menu, be it in a Korean restaurant or a stall in a food court. It celebrates the use of Ginseng (人蔘), the medicinal herb root which is almost synonymously associated with Korea. Ginseng has a long withstanding history of being used in cuisine for its beneficial properties. It is known to boost the body's immune system and vitality, boost stamina as well as lower blood sugar levels amongst many other reported effects.
I like Samgyetang for several reasons. Apart from having beneficial effects on us, is the taste is relatively milder compared to many other Chinese herbal or medicinal soups which makes it more palatable. I love to eat the stuffing of glutinous rice, chestnut and garlic within which have thoroughly absorbed the flavours and necessary goodness from the root and the chicken. Fresh ginseng can also be eaten of course but there is a slight bitter aftertaste. Most importantly, the soup is very easy to prepare requiring only a handful of ingredients and very simple procedure.


Korean chestnuts are often used as a stuffing but it is seasonal. It is usually only available during the autumn-winter seasons and doesn't coincide with the Samgyetang-eating season which is summer. As such, dried chestnuts can be used, or omitted entirely.


Small chickens are used in Samgyetang, which should be no more than 1 kg per bird. Ideally it should be around 800g or even less. The meat is more tender and becomes almost melt-in-the-mouth with prolonged stewing. To prepare the bird, excess fat, especially the fat glands around the Parson's nose are first removed. This helps to produce a soup which has greater clarity. Small slits are then made on the two flaps of skin next to the drumsticks which are then used to tuck the drumsticks in and seal the cavity. This prevents the stuffing from falling out during the stewing process.


This is what the chicken should look like after properly stuffed, with the drumsticks crossed and tucked to prevent the stuffing from coming out. It is the same way as how stuffing can be prepared for roasting. If the cavity cannot be properly sealed with the above method, it can also be secured with a skewer.
As young chickens tend to be more mildly flavoured compared to old hens, at least two spring chickens should be used each time for a good pot of Samgyetang。 So do not stinge on the ingredients as it is not only the taste but also the medicinal effects one is after.


삼계탕 Samgyetang – Korean Ginseng Chicken Soup Recipe (serves 4)
Ingredients
2 spring chickens or corn hens, no more than 1 kg each
3-4 fresh Korean Ginseng root, scrubbed and rinsed thoroughly
2-3 bulbs of garlic, papery membranes removed and broken into cloves
6-8 large red dates, pits removedand rinsed thoroughly to remove any residual sulphites.
4 tbsp of glutinous rice, preferably round-grain variety, rinsed and soaked for 2 hours
4-6 chestnuts, peeled (optional)
A sprig of spring onions, rinsed and chopped
water
salt and pepper to taste
Method
Rinse cavities and chickens and remove any internal organs or blood clots within.
Remove feet, wing tips and Parson's nose.
Trim away excess fat,especially the fat glands around the Parson's nose.
With a sharp knife, carefully make two slits on the skin flaps just next to the drumsticks.
Cut away the growth tips on the "head" of each ginseng root. It is believed that the growth tips are very "heaty" and may upset the balance of the "qi" in the body.
Add two tbsp of presoaked and drained glutinous rice into the cavity of the first chicken. Proceed to stuff with two red dates, 2-3 cloves of garlic, one fresh Korean ginseng, as well as chestnuts if using. If the ginseng is too long, it may be snapped into two before stuffing. Tuck the ends of the drumsticks into the slits on the opposite side to seal the cavity.
Repeat the process with the second bird.
In a large pot, place the stuffed chickens at the bottom and proceed to top up with water until the birds are completely immersed.
Place the remaining ginseng, red dates and garlic cloves into the water.
Bring everything to a boil and change to medium-high and continue to boil for 10 min.
Use a spoon or ladle, remove any scum which forms on the surface of the soup. Skim off any oil as well at this point.
Bring the flame down to medium-low and continue to simmer for another40- 50 min until the chicken is well cooked. The meat should be uber tender and come off the bone easily whilst the soup develops a milky appeal. This is when you know that it is ready!
Before serving, you may wish to transfer one spring chicken carefully into an earthern pot. The Koreans traditionally use a black earthernware called a "ddukbaegi" which helps the soup to retain its temperature better. Otherwise any small pot would do.
Sprinkle with chopped spring onions before serving with rice and of course, kimchi!
*NOTE: Condiments are typically not added directly into Samgyetang as it allows one to savour the natural flavours from the various ingredients. The chicken pieces can be dipped with a bit of salt and pepper before eating.

I am linking this post to Asian Food Fest : Korea ( April 2014 ) hosted by Feats off feasts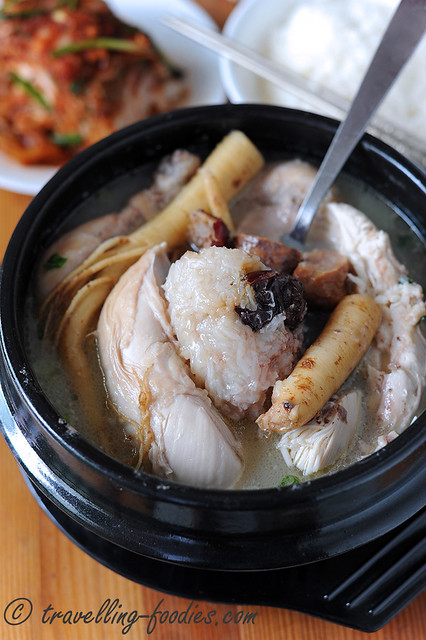 8 responses