Rawon – Indonesian Black Nut Stewed Beef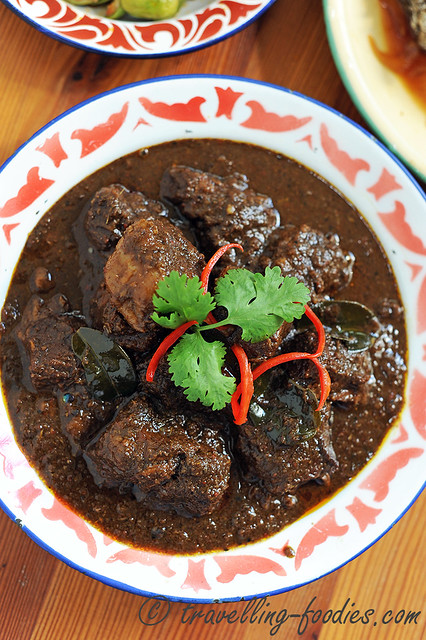 Rawon is a classic East Javanese dish which either you're gonna love or loathe. It extracts its unique flavours from the use of the "Indonesian black nut" commonly known as "buah keluak" or "kluwak/kluwek", or more scientifically Pangium edule. In Singapore and Malaysia, buah keluak is better known as part of a signature dish in Peranakan cuisine "Ayam Buah Keluak" to which it lends its name. In fact, the recipes are so similar that I would like to think that one is necessarily evolved from the other! So if you love Ayam Buah Keluak and like to give it a little twist by using beef instead of chicken, Rawon is definitely the dish for you.

The buah keluak needs to be diligently scrubbed, rinsed and soaked for a couple of days before using. In fact, raw buah keluak which are freshly harvested from the tree are laced with cyanide compounds and thus highly toxic! Back in Indonesia, the nuts are first treated by boiling and then burying them in ash for more than a month to allow the cyanide compounds to break down and dissipate. Only then would the nuts be rendered "safe" for consumption.


The "bumbu" ingredients for Rawon which needs to be ground to form a thick paste. The list is remarkably similar, if not almost identical to what one would use to prepare the "rempah" for Ayam Buah Keluak. But unlike the Peranakan version where the oily kernels extracted from the buah keluak are pounded, seasoned and stuffed back into the nut, they are ground together with the rest of the bumbu ingredients in Rawon giving the dish its characterictic dark hues. So definitely variations of the same theme.


One should buy buah keluak which feels heavy and dense to the hand. The contents should not rattle when shaken or they would have been too dry to be used.  Cracking the nuts require a bit of dexterity and can be done with the narrower end of the pestle of a batu lesung. As mentioned, the nuts need to be scrubbed thoroughly to remove any ash and mud stuck on the undulated shell, before they are soaked for a couple of days with frequent water changes and scrubbing if necessary.


The bumbu paste needs to be sauteed in a generous amount of oil to tease out the wonderful flavours from the ingredients used. Before long, one would be handsomely rewarded with the unmistakable aroma making the ordeal of going through all that prep work worth while. As with many Malay or Indonesian dishes, most of the work lies in the preparation of the bumbu/rempah. The actual cooking process is fairly straightforward and in the case of Rawon, all that is left after sauteeing the bumbu is to add the remaining ingredients and then wait for the beef to cooked until it is fork-tender!


Rawon – Indonesian Black Nut Stewed Beef Recipe (serves 6)]
adapted from "The Best of Indonesian Cooking" by Yasa Boga
Ingredients
1 kg beef (preferably brisket or shin), cut into large chunks
5 kaffir lime leaves, torn slightly
1 tbsp of tamarind pulp, rubbed with a cup of water to form a watery paste (ayer asam)
1/2 cup of oil
water
salt to taste
Bumbu Ingredients
3 stalks of lemongrass, using only lower white portion, finely sliced
4 fresh red chillies, chopped
5 candlenuts
1 tsp of ground coriander
1/2 tbsp of fresh tumeric root, peeled and chopped finely
1 tbsp of galangal root, peeled and chopped finely
2 tsp of shrimp paste (terasi/belacan), toasted until dry and crumbly
10 cloves garlic, peeled and sliced
20 shallots, peeled and sliced
kernel flesh from 8-10 buah keluak, scrubbed and pre-soaked for 3 days

Method
Grind or pound all the bumbu ingredients until a thick paste is formed.
To a heated wok, add oil and fry bumbu paste until aromatic.
Add beef chunks and kaffir lime leaves. Mix thoroughly with bumbu paste until well coated.
Add ayer asam and stir. Top up with more water until the beef chunks are just submerged.
Give everything a good stir before simmering over medium-low heat with lid on for 30 min or so.
Add salt to season. Cover with lid and continue to simmer until the beef chunks are very tender, another 40-45 min.
Serve warm with rice and other dishes.
I am submitting this post to Asian Food Fest: Indonesia, hosted by Alice from I Love. I Cook. I Bake.
8 responses